Scarborough Alliance Group Retirement Webinar
In addition to the in-person meetings and presentations, Margaret will be holding for IBEW Locals, below are her live webinar presentation dates for IBEW members with attachment and a summary below:
Scarborough Regional Manager, Margaret Pierce, will be hosting live webinars for those considering the Special Incentive EIPP or those wanting to learn more about retirement planning. The webinars will be held:
Wednesday October 25, 2023, at 6:00pm
Wednesday November 1, 2023, at 6:00pm
Monday November 6, 2023, at 6:00pm
Click this link to register: https://planmember.media/scarborough-investments-EIPP...
Also, see the attached flyer for more information.
Scarborough Alliance offers the IBEW Local Unions Savings and Security Plan, a retirement plan that is exclusively for eligible IBEW members. This is an ERISA qualified retirement plan (not an IRA), that accepts tax-free rollovers of your Verizon Lump Sum Pension and 401(k) plan.
Since 1975, IBEW members have turned to Scarborough Alliance for their retirement planning and investment needs. Here are some reasons why:
Margaret and Scarborough act as a fiduciary with a professional duty of care to always act in the best interests of members

More than 45 years of experience in helping IBEW members

Personalized advice and service from Regional Managers who are supported by a team of financial professionals

Fees that are generally lower than IRAs offered by retail advisors

Retire at age 55 or older with no restrictions or IRS penalties on withdrawals (59 ½ in IRAs)

Loans available from the plan, even during retirement
Margaret is also available to meet with you at a time that is convenient for you to discuss your personal retirement decisions. She can be reached at (508) 415-9200 or mpierce@scarboroughalliance.com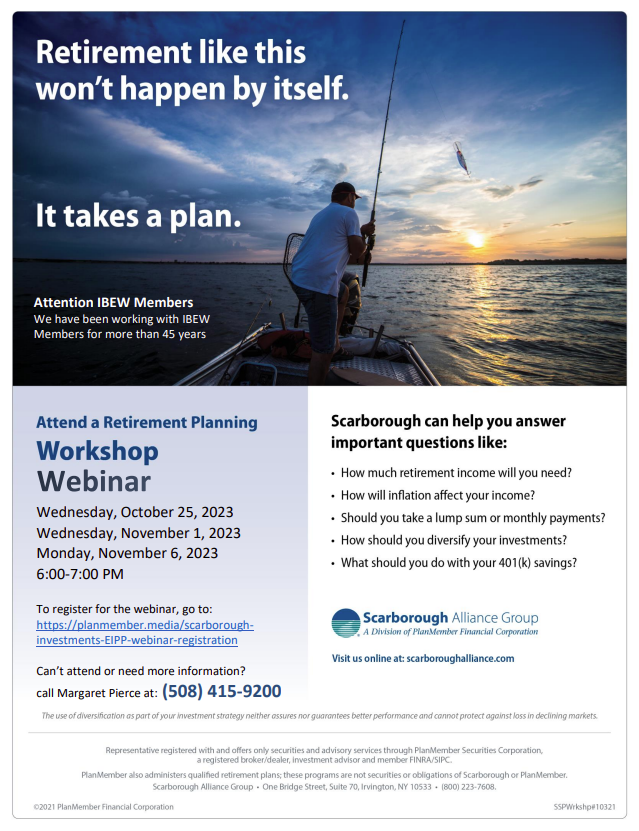 Download:

Scarborough EIPP Webinars.pdf